ONCE again, the much dreaded nationwide Movement Control Order (MCO 3.0) has been imposed on Malaysia, from May 12 to June 7.
The significant difference this time around, compared with the first nationwide MCO implemented in March 2020, is that most economic activities will be allowed to operate. But specific standard operating procedures (SOPs) will still have to be adhered to.
During a virtual press conference on the country's 1Q2021 GDP announcement last Tuesday, Bank Negara Malaysia governor Datuk Nor Shamsiah Mohd Yunus allayed concerns that MCO 3.0 would derail the economic recovery this year. She assured that the Malaysian economy appears to be on track to hit the central bank's projected GDP growth of 6% to 7.5% and that MCO 3.0 would "be less severe" than the first instalment.
"We were already mindful of the uncertainties due to the pandemic. This includes a possible resurgence in cases and other containment measures. These uncertainties were reflected by the central bank's wide forecast range of 150 basis points, which is between 6% and 7.5%," she said.
"Furthermore, the assumptions behind the growth forecast were also conservative, in the sense that we projected that there would not be any interstate travel until the end of this year and for our international borders to remain closed to leisure travel throughout 2021."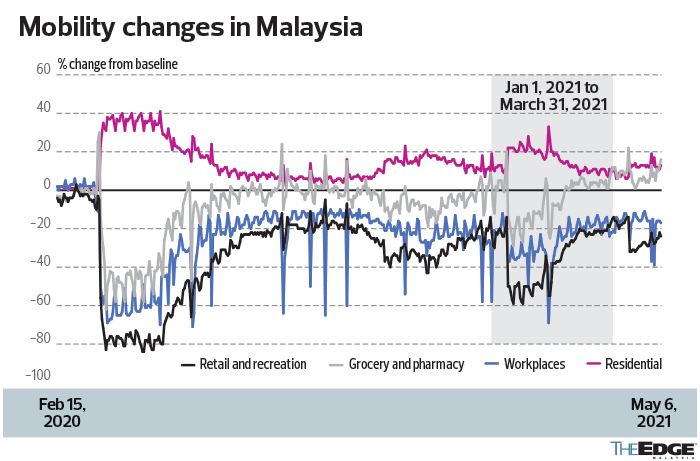 Nor Shamsiah pointed out that the MCO 3.0 restrictions are similar to those of MCO 2.0, which was implemented in selected states in the first quarter of this year. Moreover, economic data such as the Wholesale & Retail Trade Index and manufacturing Industrial Production Index (IPI) reveal that the impact of MCO 2.0 was much less significant than the first MCO in 2020.
"First, despite the imposition of MCO 2.0, the 1Q2021 GDP number is better than expected. One important distinction between MCO 2.0 and MCO 1.0 is that all economic sectors were allowed to operate," the governor pointed out.
"Similarly, with most economic sectors remaining open under MCO 3.0, we do not expect the MCO to significantly impact the [economic] growth trajectory to the extent seen in 2Q last year."
Notably, the 1Q2021 GDP number came in better than expected. On a year-on-year basis, the economy contracted by 0.5%, compared with the larger contraction of 3.4% seen in 4Q2020. The 1Q2021 number also came in better than economists' expectations of a 0.9% y-o-y contraction.
OCBC Bank economist Wellian Wiranto observed in a report that on a seasonally adjusted basis, the economy grew 2.7% quarter on quarter, compared with the contraction of 1.5% in 4Q2020.
The central bank's conviction that the economic recovery remains on track is also premised on the fact that Malaysia will benefit from an improvement in external demand.
"The International Monetary Fund (IMF) has revised its global growth forecast for this year, upwards to 6% in April from 5.5% in January. We also see both exports and manufacturing IPI growing at a double-digit rate in March," said Nor Shamsiah.
"Malaysia's trade partners also registered positive growth in 1Q2021, underscoring the fact that the global recovery is well underway."
She also pointed to the manufacturing Purchasing Managers' Index (PMI), which expanded to 53.9 points in April from 49.9 in March. This, she said, reflects the continued confidence among manufacturers on the economic outlook.
Other economic indicators that have shown improvement include the Wholesale & Retail Trade Index, which recorded a growth of 9.6% in March after contracting for five months, indicating that spending is recovering.
The performance of export-oriented industries will likely remain a bright spot for the country's economy this year, said Nor Shamsiah. "The rebound of Malaysian exports since the trough in 2Q2020 is expected to continue. Malaysia stands to benefit from the robust demand for semiconductors to cater to the increasing need for work-from-home equipment, digitalisation of businesses and medical devices.
"The strength in global electrical and electronics (E&E) demand is translating into stronger demand for production activities in Malaysia as our E&E industry is well plugged into the global value chain of products that are now highly in demand."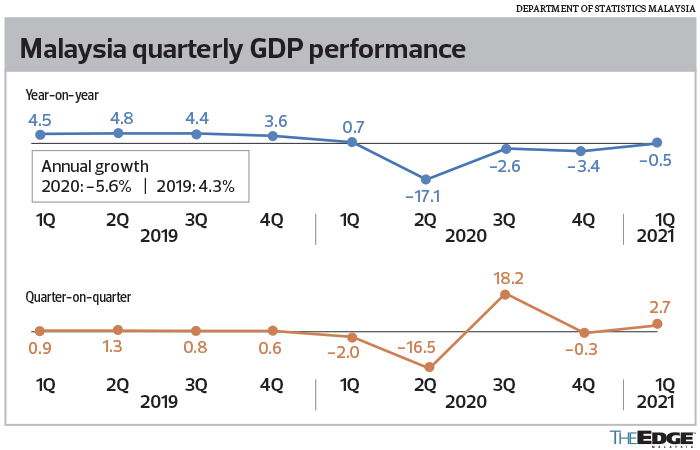 In a Bank Negara survey of E&E firms, 81% of the respondents indicated that they expect higher export growth in 2H2021 compared with 2H2020. In 1Q2021, exports expanded 11.9% y-o-y, after staying in negative territory for the whole of 2020.
"The base effect from last year's subpar performance obviously helps. But the underlying recovery in demand for Malaysia's exports, in the semiconductor-boosted E&E sector in particular, has been evident from the monthly export prints during the period as well," says OCBC's Wellian.
While exports got off to a strong start this year, private sector consumption has also shown improvement as the segment contracted 0.9% y-o-y in the first quarter compared with a contraction of 4% in 4Q2020. It was led by private investment growth, which turned positive at 1.3% compared with a contraction of 6.6% in 4Q2020. Private consumption also improved, only contracting 1.5%, compared with the 3.5% contraction in the previous quarter.
Although economic growth in 1Q2021 turned out to be better than expected, with full-year growth still on track, the central bank governor cautioned that risks to 2021 growth remain tilted on the downside, arising largely from pandemic-related challenges.
GDP contractions may be easing, but Moody's Analytics associate economist Sonia Zhu believes conditions will likely stay weak in the coming quarters, given the persistence of a consumption slump.
As Malaysia is a domestic-driven economy, the strength of the external sector is insufficient for the economy to rebound completely from its pandemic lows, she observes in a report. "The emergence of a more contagious variant of Covid-19 in Malaysia may complicate the situation more. We should avoid being overly exuberant about the external performance and downplay the weak domestic conditions."
OCBC's Wellian agrees that the resurgence of Covid-19 cases in the country is the main risk factor for Malaysia. "There remains an uncomfortable probability, however small at this point, that the MCO may just be extended to cover at least some economic activities due to any hypothetical upsurge in industrial zones or commercial areas," he says.
"That risk may be especially pronounced since Malaysia's vaccination drive has not picked up enough speed at a time when its inoculation rate remains behind its peers such as Singapore and Indonesia."
Wellian believes this scenario cannot be discounted, given the current wave of infections and the higher transmissibility of the virus, which would be a double whammy for growth if it materialises. "Not only could exports be curtailed because of enforced factory shutdowns, but its resultant hit on employment outlook would put a dent on consumer confidence as well."
Zhu sees the push towards wider vaccination coverage and herd immunity as the key to domestic recovery and helping to facilitate an economic rebound. Noting that only 3.4% of Malaysia's population has received at least one dose of the Covid-19 vaccine so far, she observes, "The slow vaccination rate, exacerbated by vaccine hesitancy, cast doubt on the federal government's ability to reach its herd immunity target by end-2021, tilting the balance of risks to the downside for the subsequent quarters."
Headline inflation to spike temporarily but moderate in 2H
Headline inflation increased to 0.5% in 1Q2021, on account of low fuel inflation because of the low base effect and lapse in effect from the electricity tariff rebates implemented between April and December 2020.
Bank Negara expects to see headline inflation spike to 6.5% to 7% in April and May as a result of the lower base from low retail fuel prices in 2Q2020. But this will be transitory, notes the governor, who expects headline inflation to moderate in 2H2021.
The central bank is maintaining its headline inflation forecast of 2.5% to 4% this year. Its projection takes into account higher commodity and crude oil prices, and in particular reflects last year's low oil prices.
"We see similar developments in other countries. So, let me be clear that Malaysia is not facing stagflationary pressures. The headline inflation is expected to dip below 5% in June and will continue to moderate thereafter as this base effect dissipates," Nor Shamsiah emphasised.
Concerns of growing inflation come amid a boom in the global commodity market. During the peak of the commodity boom in 2008, Malaysia's headline inflation averaged 5.4% that year.
The central bank governor acknowledged that the inflation outlook is subject to uncertainties arising from oil and other commodity prices, but pointed to several factors that will limit the upside risks. "This includes the knock-on impact on goods and services that will be limited by the fuel price ceiling in place from February this year. Core inflation is expected to remain subdued, averaging between 0.5% and 1.5% for the year, amid continued spare capacity in the economy."
As headline inflation will be driven by supply-side factors, monetary policy as a "demand management tool" will not be an appropriate tool to manage the situation, said Nor Shamsiah. "Monetary policy is most effective when it complements other measures undertaken by the bank, which can be targeted to the needs of specific economic sectors, as well as fiscal measures implemented by the government to facilitate a more sustainable economic recovery."
Bank Negara kept the overnight policy rate at 1.75% at its monetary policy committee meeting on May 6.
Source: The Edge Malaysia